Featured Text
The following text is excerpted from No Easy Victories for web presentation on allAfrica.com and noeasyvictories.org. This text may be freely reproduced if credit is given to No Easy Victories. Please mention that the book is available from http://www.noeasyvictories.org and http://www.africaworldpressbooks.com.
Jean Sindab: Connecting People, Connecting Issues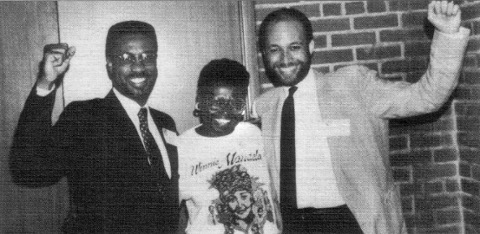 Current and former directors of the Washington Office on Africa gather at the National Anti- Apartheid Conference in June 1990. From left: Damu Smith (director 1986–89), Jean Sindab (director 1980–86), and Aubrey McCutcheon (director 1989–90). Ted Lockwood (director 1972–80), not shown in this photograph, was also at the conference. Photo by Basil Clunie.
Raised by her mother and grandmother in Bedford-Stuyvesant, New York City's largest black neighborhood, Jean Sindab won a scholarship to attend Hunter College in 1970, at the age of 26. She went on to earn a PhD in political science at Yale University. Beginning in 1980, she directed the Washington Office on Africa and led the organization during the critical period leading up to the adoption of congressional sanctions against South Africa. Sindab directed the Programme to Combat Racism of the World Council of Churches, based in Geneva, from 1986 to 1991. After returning to New York, she coordinated work on environmental and economic justice for the National Council of Churches until her final illness. Her death from cancer in 1996 cut short a rich career of activism.
During her time in Washington, Sindab focused her work on South Africa and Namibia. In Geneva the scope expanded to include combating racism worldwide. Later, from her post at the National Council of Churches, she was one of the pioneers in raising the issue of environmental racism around the country. Many in the movement stressed the intersection of domestic and international struggles. But few matched Sindab in her capacity to make live connections that went beyond rhetoric or theoretical analysis. She was confidently rooted in her own community and values, yet insistent and skillful in bringing people together for common goals.
A celebration of the life of Dr. Nellie Jean Pitts Sindab was held on February 24, 1996 at People's Congregational Church in Washington, DC. These testimonies, from among many read at the service, focus on the distinctive contributions she made to African justice.
Gay McDougall, International Human Rights Law Group
I remember being with Jean in Zimbabwe in 1988 for an international conference convened to highlight the tragedy of thousands of children that were being detained in South African jails. Many of them were tortured. It was the first major anti-apartheid conference that was attended by large numbers of South Africans, many of whom surreptitiously crossed the border to attend. There were nearly 2,000 people there. Jean was asked to speak at the closing plenary—a great honor to her and to the role of African Americans in the worldwide movement. Many of the great orators of the movement preceded her at the podium—a tough act to follow. But it was Jean that brought the house down. She spoke simply and eloquently and so passionately that every person in the audience was touched and moved to give her a standing ovation.
It is hard to imagine what the international anti-apartheid movement would have been without Jean Sindab. She was such a vital part of it, whether lobbying Congress, organizing grassroots campaigns, or strategizing with activists from other countries.
One of the things that I greatly admired about Jean was that she was an internationalist. There could be no question that she was firmly rooted in the experiences of the oppression suffered by African Americans [and especially by] African American women. But she was also someone that was able to rise above a parochial view of "our" problems and see the horizon where people of many different experiences of oppression could join forces into a majority. She was a part of the lives and struggles of many different peoples around the world.
Above all else, Jean was genuine and sincere. Jean was the type of person that gave a lot of herself to what she cared about. She was blessed to have both purpose and passion in her life.
At the goodbye party we held for Jean when she moved from Washington to Geneva, I said that when I think of Jean Sindab it calls to mind other great black women of our generation: Ms. Ella Baker, Fannie Lou Hamer, and Shirley Chisholm. Jean has earned her place among them.
Ted Lockwood, Washington Office on Africa
Jean succeeded me as the director of the Washington Office on Africa in the summer of 1980. She brought strengths to the office that I did not have and never would have. The fact that she was African American and bright was just the beginning of what she brought.
Her bubbling energy and enthusiasm led her to reach out to others who had not been reached in the struggle against apartheid. Organizations which we had never been able or tried to reach were glad to share in her zeal for African interests. Even though she was fresh from academic studies, her passion for liberation was infectious and intense. It galvanized and mobilized the anti-apartheid movement. No one was a better stump speaker.
She was generous in recognizing the contributions of those of us who had preceded her at the Washington Office on Africa. She organized a spectacular tenth anniversary party for WOA that honored those contributions. Her staff were devoted to her.
Her nationalism was not narrow or racialist or doctrinaire. It stemmed from her own heritage of Christian faith and love: a love that tries to embrace not only the victims of racism but those who are the victimizers, whether they are insensitive elitists, misguided bigots, or outright enemies. She was a disciple of Christ, a beautiful child of the black church.
At the same time, she could be confrontational with those friends and allies who she felt were undercutting the cause of freedom by lukewarm support, bureaucratic indifference, racial or sexist condescension, cynicism, or snide remarks. She was confrontational with me more than once but I think we never ceased to be friends.
She never got the support that she needed. Those of us who shared the niggardly financing that marked our times appreciated her downright rage. She would storm out of meetings in ways we never dared to. She never forgot her roots in "Bed-Stuy." The traumas she and her family had endured there fueled her passion for justice. She never suffered fools gladly. Why should she?
As my artist friend, Freddy Reynolds, would say, she was "something else." Her death is a terrible loss, but nothing so good is ever lost forever. May she rest in peace, and may light perpetually shine upon her.
Past and present members of the Southern Africa Support Project
The Southern Africa Support Project mourns the loss of our sister in the struggle for human rights. Her belief in the impossible, her sense of humor, and her energetic spirit will be sorely missed as we meet the challenges of tomorrow.
Despite Jean's tremendous workload as director of the Washington Office on Africa, she was always willing to help us in organizing material aid for refugees in Southern Africa and participate in our campaigns to raise public consciousness against U.S. foreign policy. Whether we asked her to join us in a picket line, attend a gospel show, chaperone a youth dance-a-thon, or co-host a radio program, she enthusiastically joined our programs. Jean did not limit her role in the struggle to only her organization's work. She valued the work of many organizations as a collective strike against injustice!
Her ability to work in coalitions was just one of her treasured strengths. We will miss her.