Featured Text
The following text is excerpted from No Easy Victories for web presentation on allAfrica.com and noeasyvictories.org. This text may be freely reproduced if credit is given to No Easy Victories. Please mention that the book is available from http://www.noeasyvictories.org and http://www.africaworldpressbooks.com.
Alphaeus Hunton: Why Worry about Africa?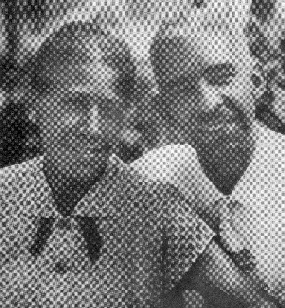 Dorothy and Alphaeus Hunton in Conakry, Guinea, in 1962.
Photo reproduced from Hunton 1986.
William Alphaeus Hunton Jr., who led the Council on African Affairs and edited its publications from 1943 to 1955, was born in 1903 in Atlanta, Georgia. His parents, William Alphaeus Hunton Sr. and Addie Hunton, were national and international leaders of the YMCA and YWCA respectively. The younger Alphaeus Hunton graduated from Howard University, received a master's degree from Harvard University, and taught English at Howard from 1926 to 1943. He was active in the National Negro Congress and moved to New York in 1943 to work for the Council on African Affairs.
As editor of the council's magazine New Africa, Hunton received a letter from a reader questioning the group's emphasis on Africa. According to James H. Meriwether (2002, 271), the letter was written in July 1950. The letter and Hunton's reply are included in a book by Hunton's widow.
Reprinted from Dorothy Hunton, Alphaeus Hunton: The Unsung Valiant (Richmond Hill, NY: D. K. Hunton, 1986), 60-62.
Alphaeus Hunton
" Dear Sir, I have come upon a copy of your paper New Africa. I have read and re-read with fervent interest the articles contained therein. First, allow me to ask a question. Why in the world would one worry about the racial conditions in Africa when we as a minority group catch hell in this country? Chances are that I'll never make it to Africa, therefore, I'm not the least bit interested in what goes on over there, but very concerned about conditions here at home.
I would appreciate an answer to this question and also any literature you have concerning the problems of our illustrious race, and additional information from your organization."
Alphaeus replied:
You ask why one should worry about racial conditions in Africa, when as a minority group we catch hell in the U.S.A.? It is a question that arises frequently, although usually asked by liberal minded white people instead of Negroes.
The answer is two-fold. First, we have to be concerned with the oppression of our Negro brothers in Africa for the very same reason that we here in New York or in any other state in the Union have to be concerned with the plight of our brothers in Tennessee, Mississippi or Alabama. If you say that what goes on in the United States is one thing, quite different from what goes on in the West Indies, Africa or anywhere else affecting black people, the answer is, then you are wrong. Racial oppression and exploitation have a universal pattern, and whether they occur in South Africa, Mississippi or New Jersey, they must be exposed and fought as part of a worldwide system of oppression, the fountain-head of which is today among the reactionary and fascist-minded ruling circles of white America. Jim-Crowism, colonialism and imperialism are not separate enemies, but a single enemy with different faces and different forms. If you are genuinely opposed to Jim-Crowism in America, you must be genuinely opposed to the colonial, imperialist enslavement of our brothers in other lands.
Our great leaders from Frederick Douglass to Paul Robeson have emphasized and re-emphasized this lesson in both word and deed. It was Douglass' support of the Irish people's freedom struggle in his day that made it possible for Britain to rally the British workers to fight [with] the North in the Civil War. The workers of England took their stand on the side of Lincoln and emancipation. This leads to the second important part of the answer.
It is not a matter of helping the African people achieve freedom simply out of a spirit of humanitarian concern for their welfare. It is a matter of helping the African people, because in doing so we further the possibility of their being able to help us in our struggles in the U.S. Can you not envision what a powerful influence a free West Indies or a free west Africa would be upon American Democracy? . . .