North America and Africa: A Life of Solidarity
Note from No Easy Victories website editor
Brian was one of the unacknowledged pioneers of using international electronic networks for social justice, taking advantage of opportunities in the 1980s in the pre-Internet era, long before such communication became commonplace. Among many other efforts, he was a founder of Africa Information Afrique in Harare, and of the international Peacenet based in San Francisco, California. When Dr. Murphy died unexpectedly in June 2013, he had been a professor in communications at Niagara University since 1999, highly respected by both colleagues and students.
The tribute immediately below was written by his life partner Dr. Kate Showers. Also below is the Niagara University press report on his death.
---
In Memoriam: Brian Martin Murphy, 1948-2013
by Kate B. Showers, PhD.
March 2017
Brian M. Murphy, historian, journalist and communications professor died as he lived – with complete determination and utter selflessness to expose injustice and promote understanding of the complexity of the African continent and the honour of its people. Canadian by birth, in the late 1960s he entered a Masters Degree program in history at Edinburgh University. After discovering social history, he left the university to begin the seven year British apprenticeship programme in journalism. His intention was to produce reports about ordinary peoples' lives that would both alert contemporary society to problems and serve as primary source material for future social historians. Coming from the Province of Quebec, with strong separatist and nationalist advocates, Brian was welcomed among those with similar ideas in Scotland. Working with Tom Nairn at the Scottish International Institute, he contributed to production of the first English edition of Gramsci's Prison Diaries. A student of anarchism, he was proud to have contributed to the English publication Freedom. It was anarchist theory that informed his belief in the offset press as a tool for popular dissent and early experiments with computer communications while working on the Edinburgh University student newspaper.
Dr. Brian Murphy (Photo courtesy of Niagara Index)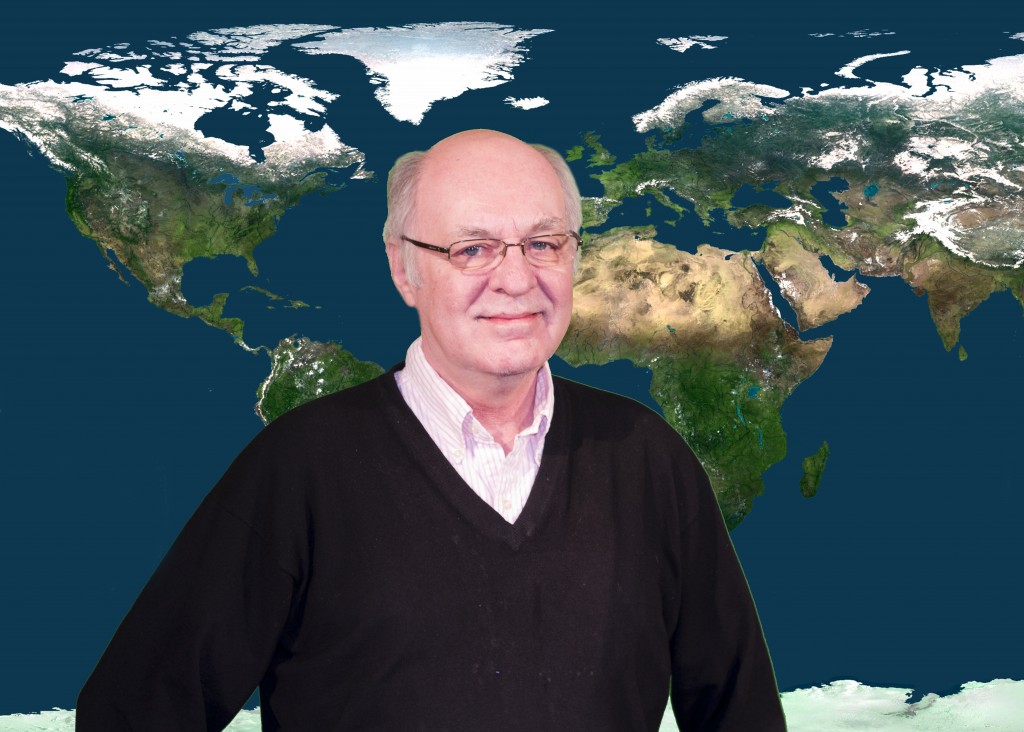 Wanting to explore ideas of popular education and distance teaching at a practical level and contribute to the struggle against South Africa's Apartheid, Brian joined the British chapter of International Voluntary Service (IVS) and was sent to the Kingdom of Lesotho. Completely surrounded by South Africa, yet fully independent, Lesotho had become a refuge after the Soweto uprising when Brian arrived in 1967. Living in a house near the border, he was able to help some newly arriving refugees. He worked with Radio Lesotho training staff in reporting and radio production, and also carried on as a freelance journalist. One of his trainee colleagues, 'Me Mamonaheng Lesenya, went on to become a much-loved national radio personality. While Brian was in Lesotho, Margaret Thatcher rose to power in Britain; her government passed legislation that denied Brian the right to residence in his beloved Scotland.
Upon his reluctant return to Canada, Brian became involved with Renewable Energy News,where experiments were being made with the first generation of personal computers and the possibility of long-distance computer type-setting. He also maintained his freelance reporting, and enrolled in Carlton University's School of Journalism for a Masters Degree. His thesis traced the growth of the then new communications technologies of satellite broadcasting, cable television and the development of 'informatics' from a critical international perspective. Ignorant of academic protocols, he published The World Wired Up: Unscrambling the New Communications Puzzle before submitting it to the university, thereby disqualifying it as his thesis. He continued as a freelance journalist, becoming accredited to the House of Commons Press Gallery as the Ottawa representative of Rome, Italy's Interpress Wire Service. He also began a second Masters thesis on the origin and development of computer communications networks: military, banking, and non- government organization (NGO).
After South African commandos raided a refugee news agency in Gaborone, Botswana killing the journalists, Canadian and Nordic NGOs decided to replace it with an internationally funded and led entity partially protected by the fact that attacks would become international diplomatic incidents. Canada's CUSO took the lead, and asked Brian to create a Canadian news service to supply subscribers interested in the anti-Apartheid struggle. Portable computers were new, the laptop size was just becoming available, and NGO computer communications systems were being developed around local computer networks linked internationally by satellites. Alternet in Ottawa was thus connected to the international NGO communications network that included PeaceNet in San Francisco. Brian proposed a computer-based news agency to be called Africa Information Afrique (AIA) as a mechanism for circumventing the press barriers created by South Africa's State of Emergency declaration. Botswana refused to host AIA due to proximity to the South African border. After Samora Machel's plane was shot down, Zimbabwe's President Robert Mugabe changed his policy from exclusive PAC support to welcoming the ANC. AIA was approved as a CUSO project in Harare, where Brian was based from 1987 - 1991.
Originally affiliated with Interpress and housed at its Harare bureau, with staff expansion, AIA moved to its own office space. Portable computers and computer communications using the telephone system were unknown in Harare. Brian and Ottawa- based technician Richard Kerr identified the cleanest telephone lines and rented office space that included them so that AIA would be able to transmit news using the NGO packet-switching, store-and-forward communications satellite network. Richard also made trips to South Africa to deliver funds for computer purchase and provide training in sending and receiving messages. For the news service to function, local computer networks had to be established in each participating country; Harare's Mango continues to this day. At its height, AIA had correspondents in each of the SADC nations and throughout South Africa. It was the first news agency to file copy via computer from the African continent to North America. When the Commonwealth Heads of State met in Harare, representatives of major international news networks went to AIA's offices for demonstrations.
Upon his return from southern Africa, Brian decided it was time to use his vast experience and apply his anarchist theory in training the next generation of journalists. He began to volunteer with PeaceNet to create a news service, and enrolled at the University of Massachusetts for a PhD in Communication Studies. There he met Professor Sut Jholly, who invited him to work on some of the educational films produced at his Media Education Foundation. When the commercial Internet was new, Brian had been working with – and helping to create - international computer networks for eight years. Applying as an experiment – he had never applied for a job – Brian was invited to become a professor at Niagara University, Lewiston, New York. He accepted because NU had social justice as a university-wide core value, and Department Chair Jim Wittibols wanted Brian to help redesign the entire curriculum in terms of social justice. Brian Murphy was a dedicated teacher and continued to be an active journalist, promoting social justice and concerns of the African continent, beloved by students and faculty, until his untimely death.
---
University Community Mourns Loss Of Dr. Brian Murphy
June 18, 2013 | by Michael Freedman
Dr. Brian Martin Murphy, the chair and associate professor in the communication studies department at Niagara University, has passed away unexpectedly of natural causes. Dr. Murphy had been a member of Niagara's faculty since 1999.
As an associate professor, Dr. Murphy taught courses in the art and history of film, media programming and management, investigation and reporting, and media history.
In addition to his work in the classroom, Dr. Murphy was the moderator of the communication department's newsletter and honor society, Lambda Pi Eta (LPH), and served on the university senate and various committees.
Dr. Murphy came to Niagara University after a 25-year career in the global media industries, focusing on social justice. He worked in Britain as a newspaper reporter, production editor, magazine feature writer/editor, and international affairs investigator, winning national awards for newspaper design and research into new communication technologies. He also worked for a number of years in Africa as a radio producer and freelance writer, and was published in a number of magazines, including New African Business and Africa Now.
Dr. Murphy was a co-founder and co-editor of one of the United States' first Internet-based social justice news services (PeaceNet Headlines). He managed media research and did script consulting for the educational video documentary production company Media Education Foundation.
Dr. Murphy received his B.A in history from Concordia University, Montreal, and a master's degree in journalism from Carleton University, Ottawa. His Ph.D. in communication was awarded by the University of Massachusetts Amherst.
Information on funeral services for Dr. Murphy will be communicated as they become available.
Within moments of hearing the news of Dr. Murphy's passing, his colleagues and present and former students began posting messages on social networking websites.
"We all loved Brian, and all that he brought to our students, our university, and each of us as colleagues," wrote Dr. Doug Tewksbury. "He was always incredibly proud of all of his students, particularly those who went on to work to make the world a better place. For now, I think it's worth remembering the lives that Dr. Murphy touched, his dedication to social justice and doing what was right, and the joy that he brought to the lives of everyone he encountered."
"Today marked a day of sadness for so many who lost a friend, loved one, colleague and mentor in Brian Martin Murphy," penned Dr. Kalen Churcher. "The best way to remember "Murph" would be to continue his work in social justice. He was, and always will be, proud of you."
"Dr. Murphy, I am forever grateful to you for everything you have done for me," wrote 2013 Niagara University graduate Stacey Czerwinski. "You were behind every pivotal achievement in my academic career at Niagara, and provided me with support when I needed it most. I will miss your smile, your listening ear, and your kind words. Paths that cross, will cross again. Until we meet again, I will work to make you proud. Forever your impression will remain on my heart. May God hold you in the palm of His hand."
Added classmate Vince Schiano, "To one of the most brilliant men I've ever met in my life; a professor that focused on the students first, both in and outside of the classroom; an individual who wanted nothing more than for his students to succeed: Rest in peace, Dr. Brian Martin "Murph" Murphy. Today, the world lost an incredibly inspiring individual."